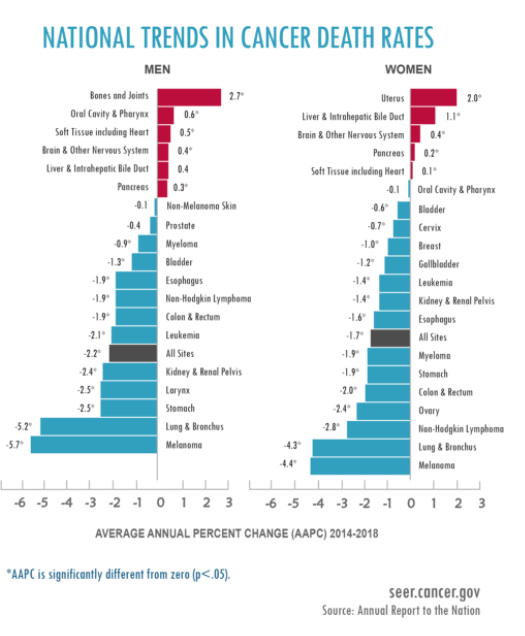 Overall cancer death rates declined from 2014-2018, according to the National Cancer Institute's recently released Annual Report to the Nation on the Status of Cancer.

The report looks at long-term trends and data regarding new cancer cases (incidence) and cancer deaths (mortality) across the United States. Key findings include:
On average, cancer death rates decreased 2.2% per year among males and 1.7% per year among females.
Cancer death rates decreased an average of 0.9% per year among adolescents and young adults, and an average of 1.4% per year among children.
Overall cancer incidence rates are leveling off among males after earlier declines and increasing slightly among females and adolescents and young adults.
Increased mortality was found in five cancer types among women and six cancer types among men. (See the graphic for details. Click on the graphic to view a larger version in your web browser.)
The overall downward trends in cancer deaths reflect population changes in cancer risk factors, increases in cancer screenings (before the COVID-19 pandemic), and changes in diagnostic practices.
The most common cancer types among children were leukemia, brain and other nervous system cancers, and lymphoma. All of these cancers showed increases in incidence rates between 2001-2017.