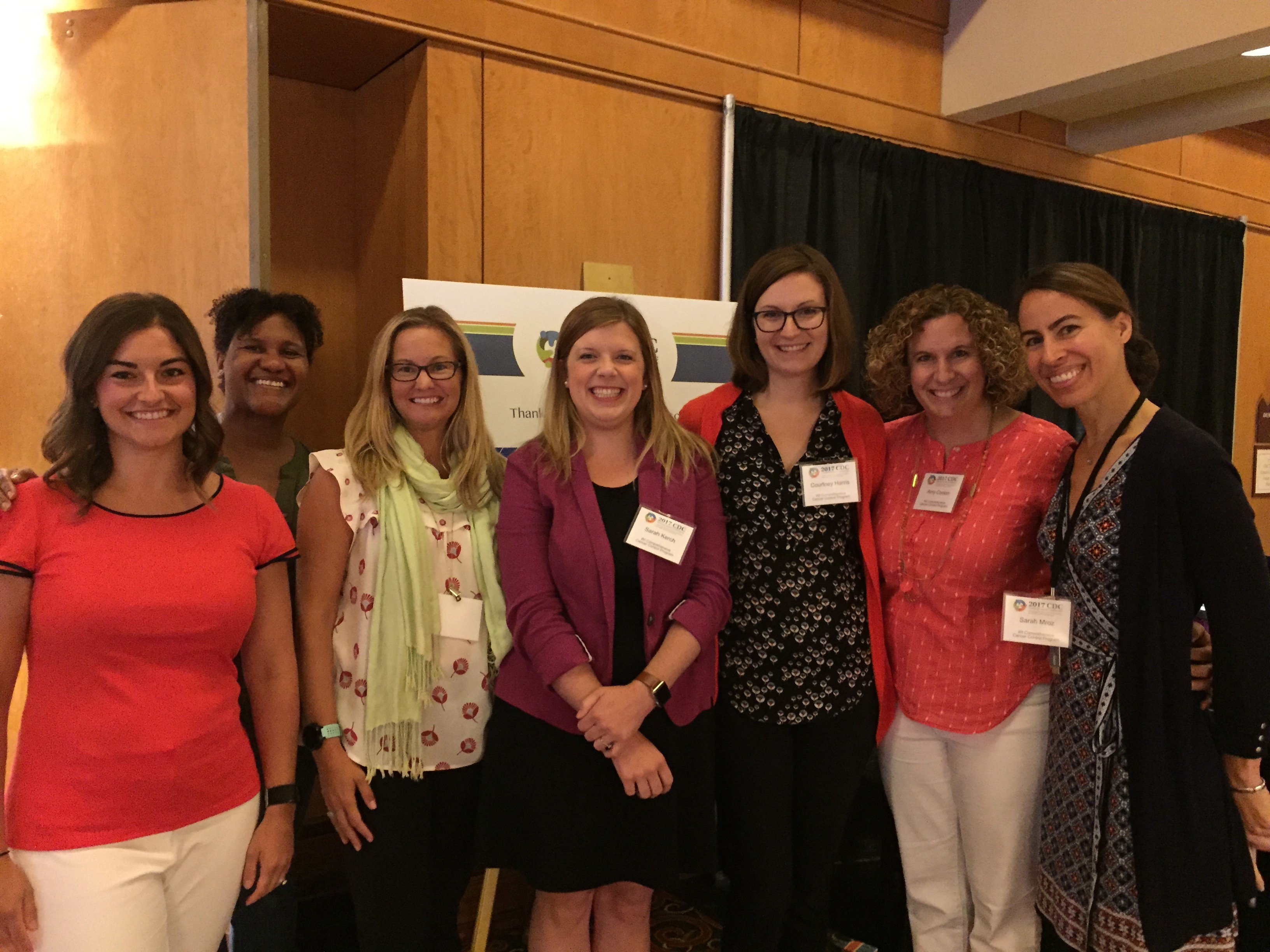 Report from the staff
Last month several members of the WI CCC Program team flew to Atlanta to attend and present at the CDC's National Cancer Conference. We caught up with a few of them after they got back.
---
Carrie Kilman, ENGAGE editor: Welcome home! What were the highlights from the week?
Courtney Harris, policy coordinator: Hearing from experts at the state and national level about their work in cancer prevention and control, and public health more generally, was inspiring and motivating. A highlight for me was the keynote presentation by Dr. Atul Gawande, where he discussed the current health care landscape and the power of primary care and the patient-provider relationship to influence outcomes.
Sarah Kerch, partnership coordinator: Hearing from other states on their approaches to comprehensive cancer control. Learning about Project ECHO-(https://echo.unm.edu/) and how it could be incorporated into comprehensive cancer control in Wisconsin. Finally, hearing the thought-provoking keynote by Dr. Atul Gawande.
Sarah Mroz, outreach program coordinator: Seeing writer and surgeon Atul Gawande give a keynote address on the importance of big picture thinking when it comes to health care coverage and thoughtful end of life care. It was also great meeting partners from around the country doing great work in the areas of prevention and education.
CK: Why are you glad you went?
CH: We were able to meet and form connections with Comprehensive Cancer Control colleagues throughout the country that will hopefully allow us to better collaborate in our work. The conference was also a great opportunity to showcase some of the amazing work Wisconsin is doing in cancer prevention and control, and I was thrilled to get to support my teammates who presented at the conference!
SK: I got a chance to hear about the work of other CCC coalitions, taking helpful ideas to incorporate into our work. I also got additional confirmation that we're doing great work in Wisconsin.
SM: I'm happy to have participated because my presentation on the Sister Pact program was met with a lot of enthusiasm from others looking to address cancer disparities. It's great to share and hear lessons learned from others working in cancer control.
CK: What did you learn from other CCC programs?
SK: How other CCC coalitions get to their Priority Work Plans. It is new to WI but not new to other states. We can definitely take what other states do and make it our own.
CK: Did anything funny or enlightening happen behind the scenes?
SK: I was TWINNING with Lisa Richardson. Can't get much funnier than that!
CK: How do you feel coming back to your work in WI?
SK: A little tired. J But also very energized moving into a busy year of planning for our priority work plan, regional meetings, and making the most out of our reenergized WI Cancer Council.
CH: I'm coming back with new energy and ideas to make even more progress on reducing the burden of cancer in the state.